Allergy & Immunity Immune Chews | Dr Woow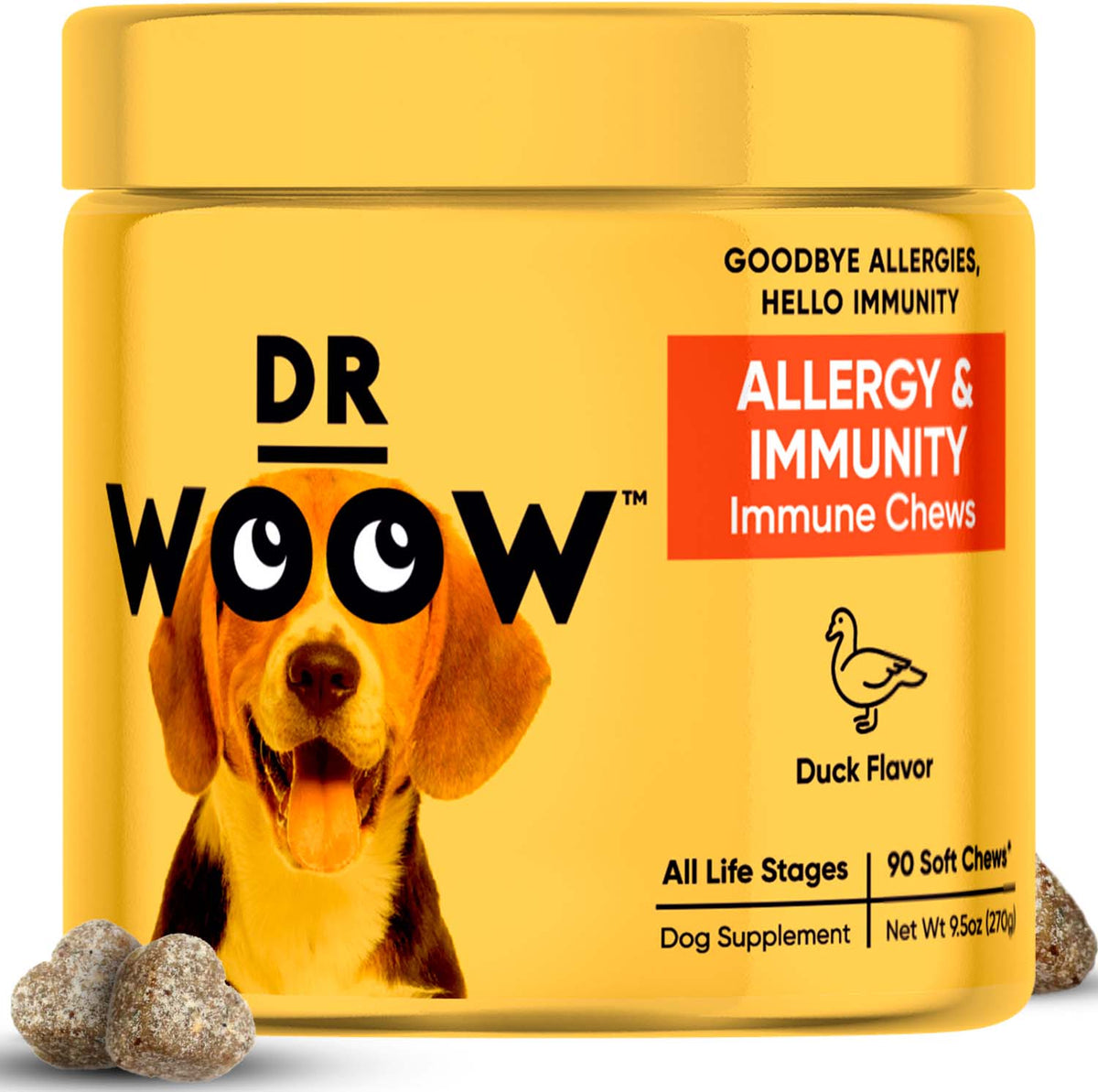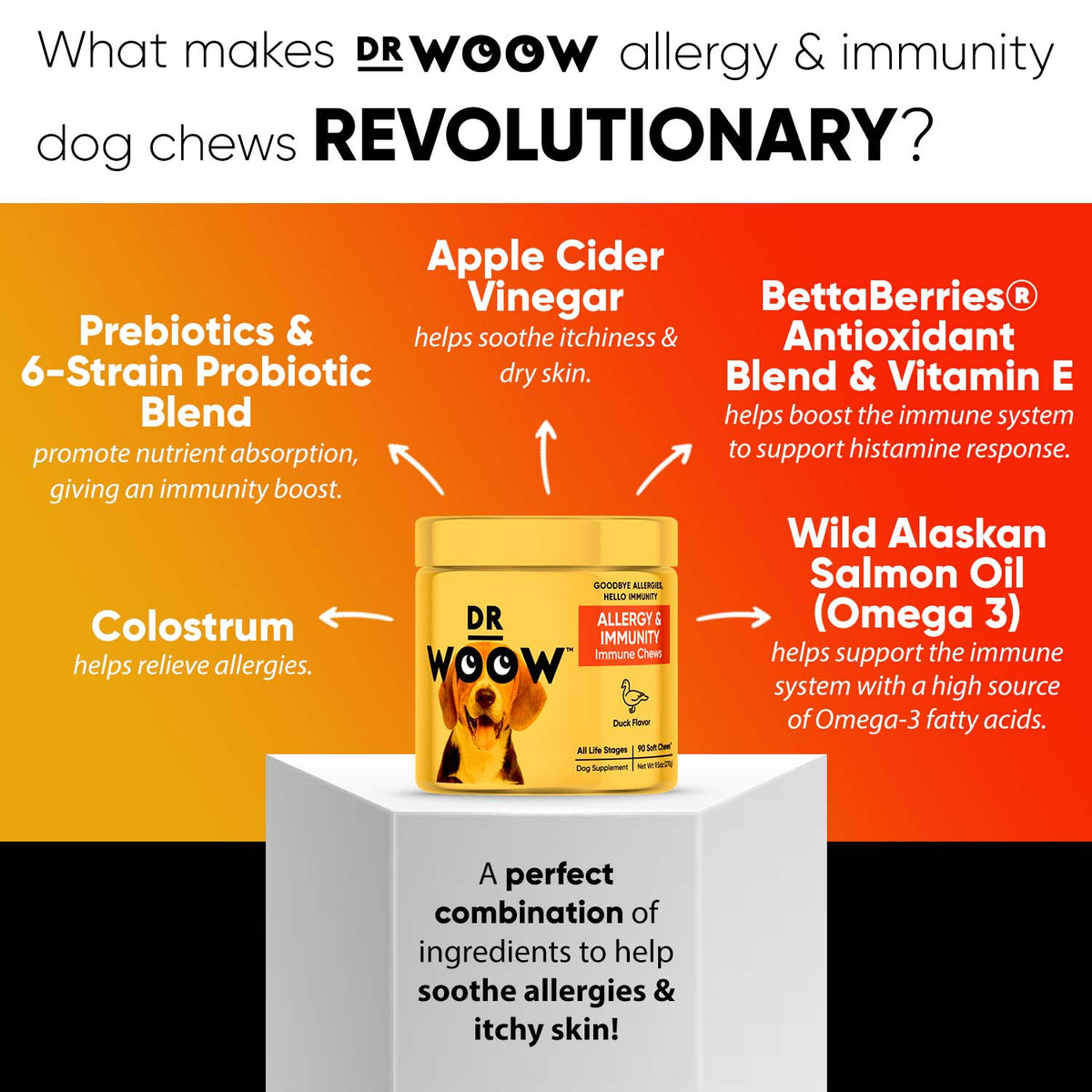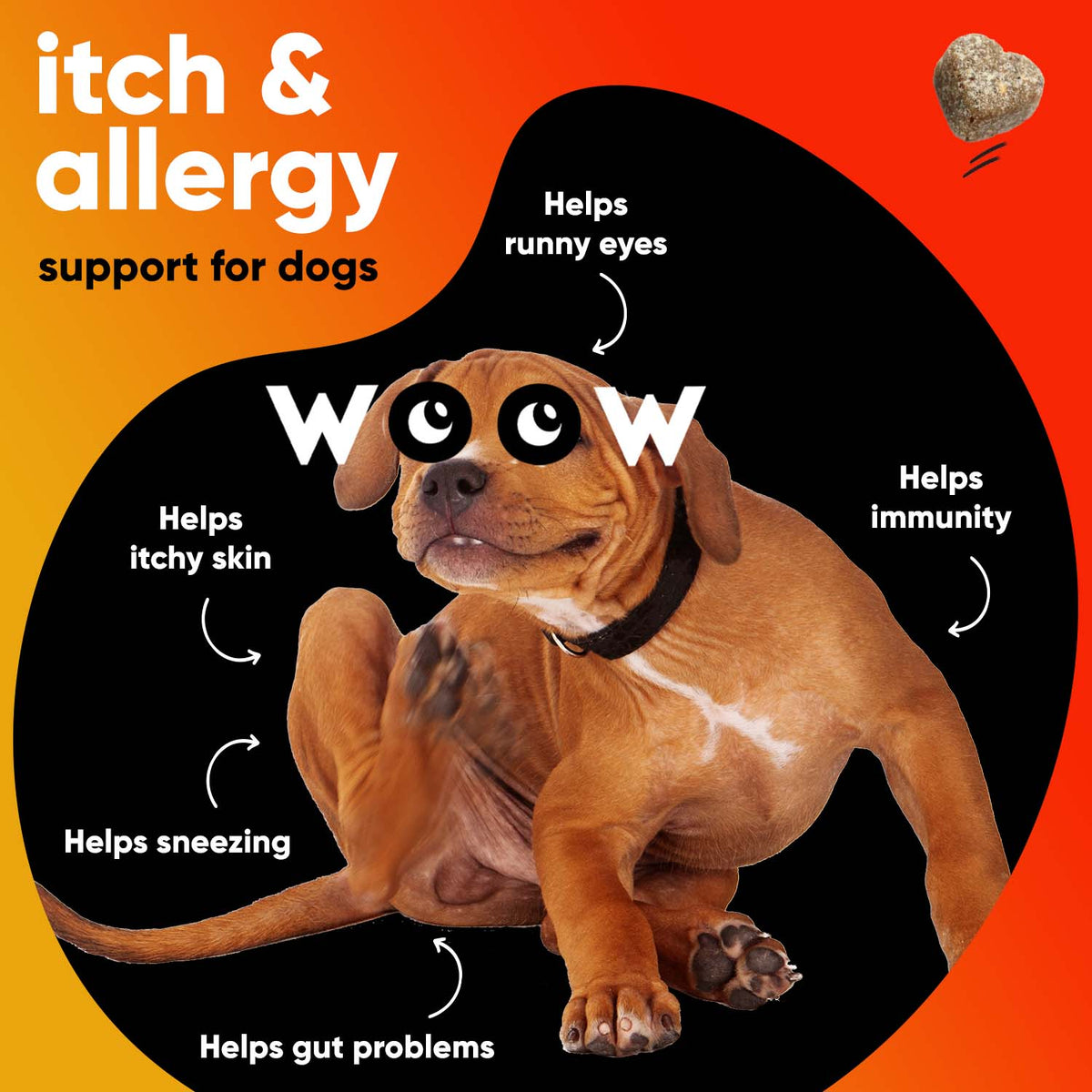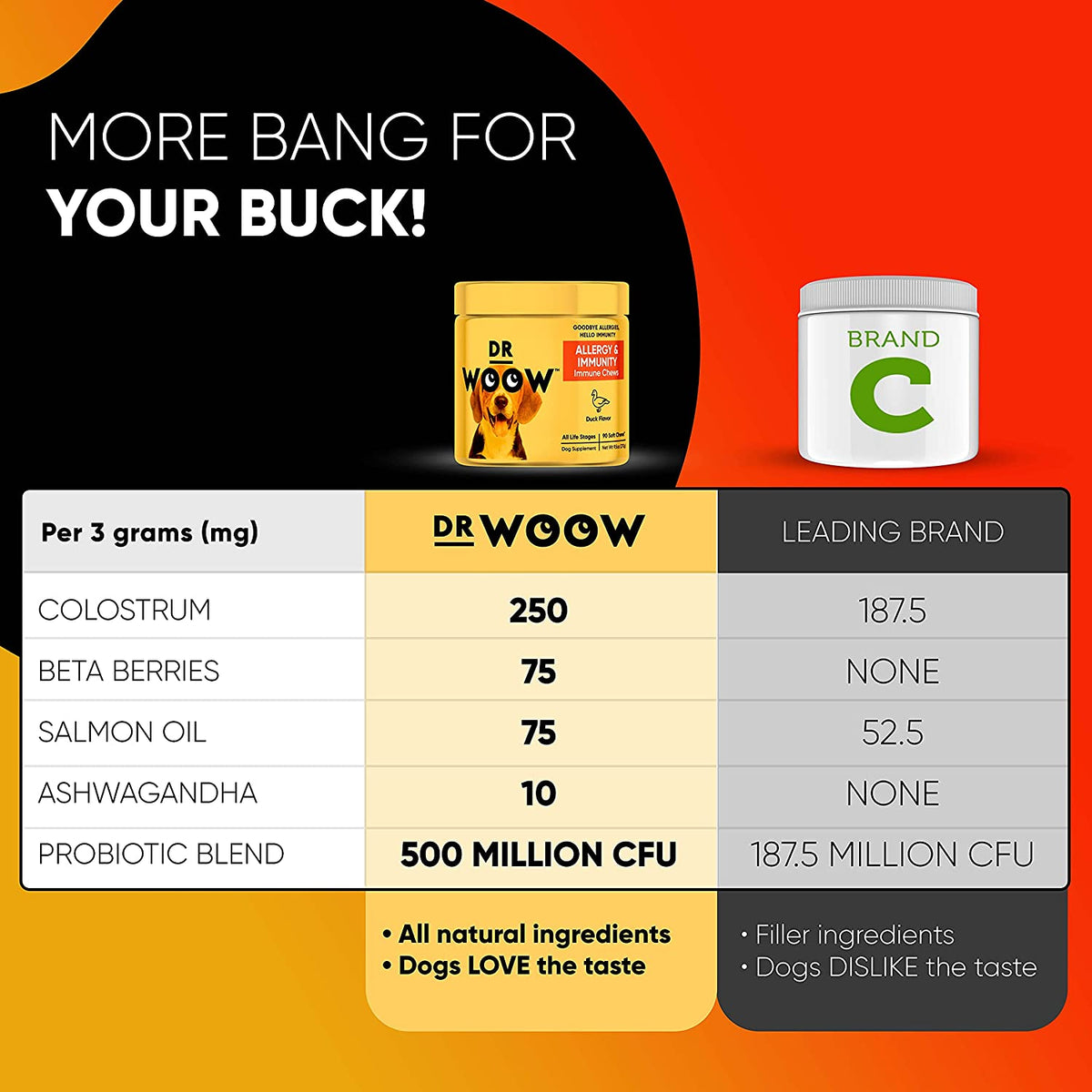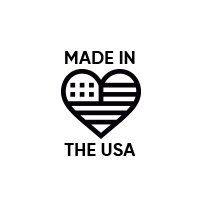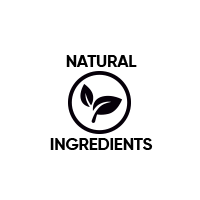 What makes Dr Woow Allergy & Immunity dog chews REVOLUTIONARY?
Kiss your dog's seasonal allergies goodbye with Dr Woow's Allergy and Immunity Supplement Soft Chews for Dogs.
NATURAL ALLERGY & IMMUNE DOG SUPPLEMENT
Delicious dog allergy immune bites that help boost the immune system. Great functional formula to be used as seasonal allergy chews for dogs, immune support for puppies and dogs, and overall health.
WILD ALASKAN SALMON OIL, BETTABERRIES® ANTIOXIDANT BLEND, VITAMIN E, COLOSTRUM
Help support your dog's immune system with the combination of Omega-3 rich salmon fish oil, patented antioxidant Bettaberries® blend, Vitamin E and Colostrum that help support seasonal allergies and immune function.
PREBIOTIC AND PROBIOTIC BLEND
These dog sesonal allergy supplement feature powerful prebiotics from Yea-Sacc® and apple cider vinegar, along with a 6-strain Probiotic Blend, which supports nutrient absorption to boost the immune system and help a dog's digestion.
TASTE LIKE TREATS & SMELLS GREAT
Irresistible duck flavored immune support for dogs. Made with pet parents in mind for convenience, ease of use, and pleasant-smelling supplements.
QUALITY YOU CAN TRUST
Made in USA in an FDA registered facility that is 100% powered by solar energy. These soft chews were formulated by pet nutritionists and are endorsed by vets.
Active Ingredients Per Chew (3g)
Colostrum (15% IgG)
250 mg
Betta Berries® Antioxidant Blend
75 mg
Wild Alaskan Salmon Oil
75 mg
YEA-SACC® Saccharomyces Cerevisiae)
15 mg
Apple Cider Vinegar
12.5 mg
Probiotic Blend - (Bifidobacterium animalis, Lactobacillus Acidophilus, Lactobacillus rhamnosus, Lactobacillus fermentum, Lactobacillus reuteri, Lactobacillus salivarius)
500 Million CFU
Other Ingredients
Blueberry, Coconut Glycerin, Duck Digest, Fenugreek, Flaxseed, Mixed Tocopherols, Oat Flour, Palm Fruit Oil, Powdered Cellulose, Rosemarym Extract, Sorbic Acid,
Sunflower Lecithin.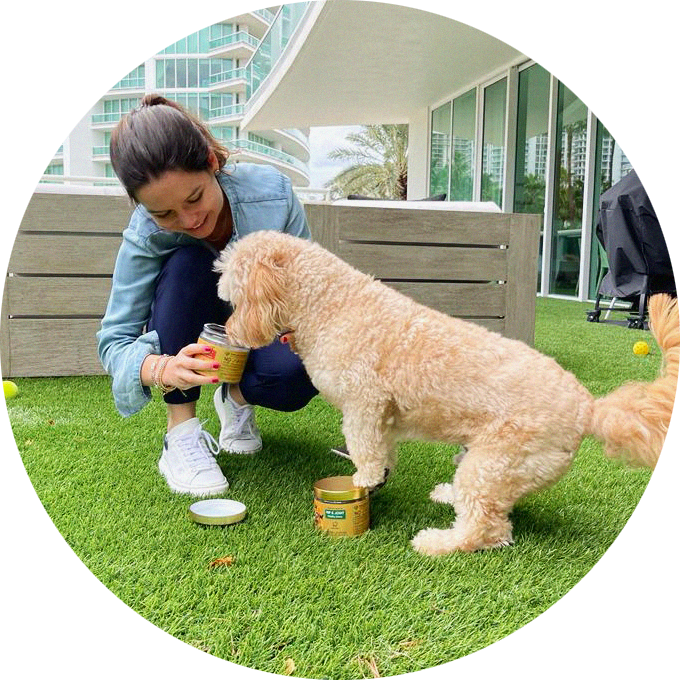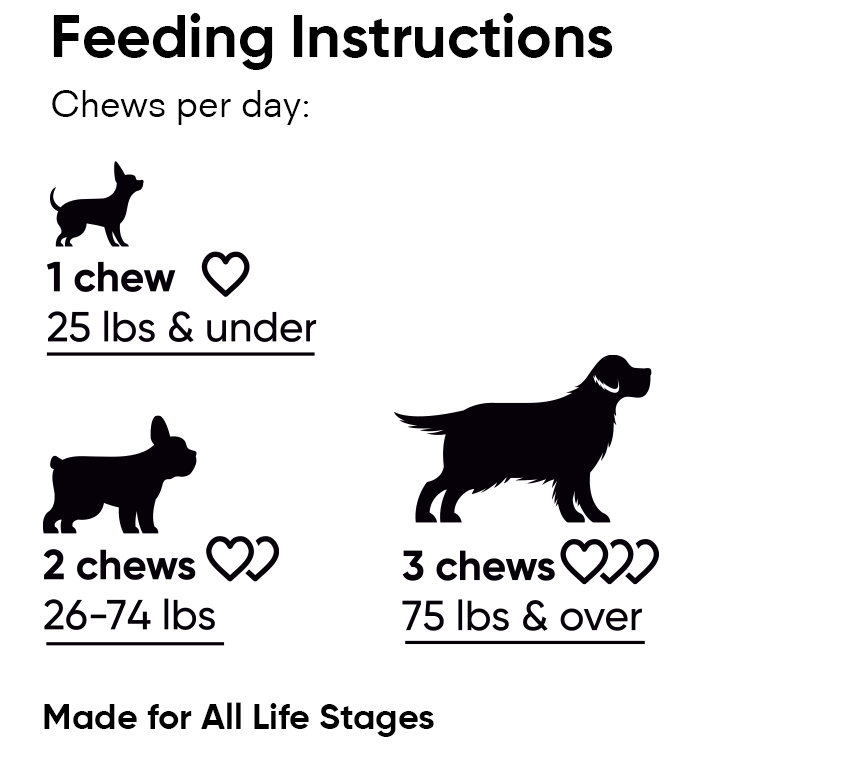 WOOW, these soft chews have everything!
Made with natural
ingredients, nothing artificial.

No added chicken, grain,
corn, or soy.

Endorsed by vets and
pet nutritionists.

Made in a kitchen that is powered by solar energy… sustainability matters!

Made with love in USA in an FDA registered and SQF certified
facility.

What dog parents are barking about
Frequently Asked Questions
Dr Woow's Immunity Chews helps sooth seasonal allergies and boosts the immune system. Great supplement as a daily multivitamin to boost overall health, as well as help dogs with itchy skin and allergies. 
Dr Woow supplements were formulated by top pet nutritionists. We looked at breakthrough research to take each supplement to the next level of innovation. Each ingredient was carefully selected for a specific benefit it provides to the overall formulation. We also made sure to test the palatability of our soft chews so that all formulas taste like treats to dogs yet provide a high level of efficacy.  
Dr Woow supplements include top-quality vitamins that help boost a dog's overall wellness and support specific health ailments. Like humans, supplements complement a daily diet and add additional benefits to a dog's wellbeing.
Dr Woow soft chews are formulated for all life stages, including puppies through senior dogs. We recommend starting from an early age because preventative nutrition is the key to long-term health.